1/4/18
Finn and I went for dinner and drinks in my town. When picking where to go, I gave him a few options. He said, "well since you had a long day, let's go to the martini bar," knowing that I love me some martinis. It was an enjoyable evening spent with my man, but nothing too eventful.
1/5/18
I'm at work. It's an ordinary Friday, other than being hella cold with wind chills dropping the temps even lower.
Around 11, I'm sitting in my office and Sonia walks into our department carrying flowers and walking straight towards me with a huge smile on her face. I had been mid-sentence, talking to my officemate, Tabatha when I saw Sonia coming towards me. I stopped talking to Tabatha and asked who those were for as they very well could've been for Tabatha. Sonia smiled bigger and nodded at me. I was shocked.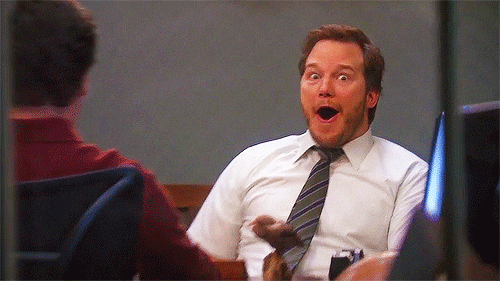 This is pretty much how I looked from when they arrived until approximately 30 minutes afterward.
Then I read the card,
"Just because it's Friday and I wanted to make you smile. And to embarrass you in front of your coworkers because they will be asking questions, LOL! I hope you have a great day and enjoy your flowers. -Finn"
I mean, come on. This guy…😍